During the past years various initiatives were taken to use historical cartographic material available in several Dutch historical archives. In the first place one can think of digitizing (scanning) the available paper versions of historical maps. However, more and more, there is a need not only for scanning historical maps, but also for preparing, i.e. vectorizing and georeferencing, them for presentation and analysis of other data sources, for instance, demographic and other socio-economic data at the family and household level from historical population censuses and (other) registers.
The aim of this project is to link historical population data from population censuses and population registers to digitized Dutch historical cadastral maps for the purpose of demographic analysis at the micro level.
This project will unlock some Dutch municipalities using a geographical information system (GIS) to vectorize historical cadastral maps. NIDI has been working together with the Frysk Akademy on digitizing and linking the historical cadastral maps of Amsterdam to population register data of 1851-1853 (HISGIS Amsterdam). Such links allow analyses of changes in time, both from a demographic, spatial planning, and genealogical perspective.
Population density and main religious denomination by premises, Amsterdam, 1851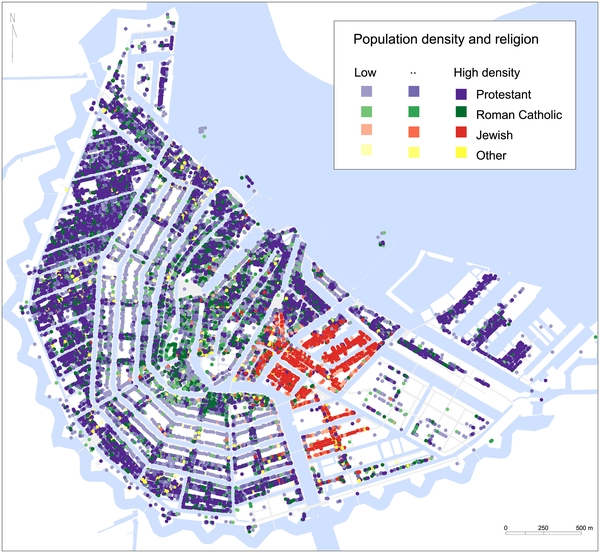 Source: own calculations based on Amsterdam Population Register 1851-1853 and HISGIS Amsterdam.